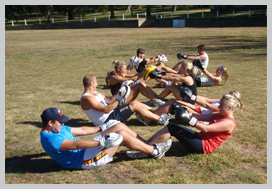 Healthy Switch 8 Week Bootcamps ensure that a busy working life doesn't impede the achievement of optimum health and fitness. Our high intensity sessions provide maximal fitness benefit, through an extensive variety of exercises that suitably challenge all fitness levels.
Whether participants choose to commit to 1, 2, or 3 sessions per week, our high quality sessions provide them with the perfect platform to structure their weekly exercise regime around. Along with the comradery & cost effectiveness of training in a group setting, the outdoor environment provides open space & fresh air, which has been proven to burn more calories than training in an enclosed & temperature manipulated gym or studio. Our sessions take place year round, with no session having ever been cancelled – we simply train under shelter at each training venue where necessary.
Instruction by a nationally accredited & highly experienced Group Personal Trainer.
Choice of Bootcamp, Super Circuit, Boxing Blitz, or Switch Up (combination of each style).
Flexibility of various AM & PM timeslots, in multiple inner Melbourne locations.
Participant numbers for each session strictly limited to ensure personalised instruction.
*Rates start from less than $14 per 1hr session& $12 per 50min session. With the majority of participants having attended for a number of years (some since the initial program in 2006),
the benefits speak for themselves!
| | | | | | |
| --- | --- | --- | --- | --- | --- |
| TIMETABLE | Monday | Tuesday | Wednesday | Thursday | Friday |
| 6:00AM-7:00AM | BOOTCAMP | SWITCH UP | BOOTCAMP | SWITCH UP | BOOTCAMP |
| 7:10AM-8:00AM | CIRCUIT | | BOXING | | BOOTCAMP |
| 8:30AM-9:30AM | | MUMS & BUBS | | MUMS & BUBS | |
| 12:30PM-1:20PM | BOXING | BOOTCAMP | | BOOTCAMP | SWITCH UP |
| 5:20PM-6:10PM | SWITCH UP | | | SWITCH UP | |
| 6:30PM-7:30PM | CIRCUIT | SWITCH UP | BOXING | BOOTCAMP | |
Boxing Blitz:
High intensity session, instructing correct boxing technique & featuring boxing combinations, bodyweight resistance, interval running, skipping, & core/abdominal exercises. Distinguishing factor of our boxing sessions is that pad holders remain active with lower body plyometric & cardio exercises between combinations!
Bootcamp:
High intensity session taken on the move, involving plyometric supersets of bodyweight resistance exercises, between interval running drills. Being taken on the move allows each session to head to unique locations for a change of scenery & great variety of drills!
Super Circuit:
High intensity is ensured through compound plyometric resistance exercises, with frequent short cardio intervals. Equipment used includes dumbbells, kettlebells, resistance bands, medicine balls, dead balls, heavy ropes, fitballs, bosus, speed ladders, exercise mats & the occasional truck tyre!
Switch Up:
A combination of each of the above session styles, generally on a rotational basis from session to session.
Mums & Bubs:
Group PT where clients are able to bring their young children along in prams, to avoid any need for a babysitter. Babies are present, however that doesn't alter the high intensity training format!
*All Healthy Switch sessions involve a balance of push & pull resistance exercises, across all planes of movement.
Contact us for more information on Healthy Switch Bootcamp