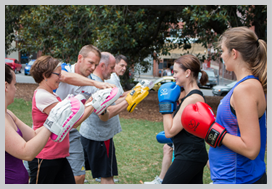 Corporate Health & Fitness Initiatives represent a large component of weekly Healthy Switch sessions, creating fitter, healthier, happier & more optimistic workforces, which in turn decreases staff turnover rates& enhances company productivity.
Rather than waste time and resources individually analysing staff members to alert them of potential health risks (of which they are likely already aware), we focus on inspiring the desire of staff to make positive lifestyle changes. We also work more cost effectively by addressing the team collectively, conducting presentations and fitness training sessions in a group environment.

Corporate Group Fitness Training:
Healthy Switch Corporate Fitness sessions improve health and fitness levels of staff, whilst also instilling accountability, teamwork & leadership principles, through working together in a challenging group environment.Whether partially or fully funded by the corporation, the morale boost from Healthy Switch Corporate Fitness sessions make them a highly profitable investment.
Options range from a standard weekly session(s), specifically programmed sessions in the lead up to a run or triathlon event, to one off conference/event sessions, with fixed rates deemed by the number of participants in the group (Small, Medium, or Large). For standard sessions, our corporate clients select a preferred session style from Boxing Blitz, Circuit, or Bootcamp, with most selecting Group PT for a combination of each. A summary of session styles is as follows:
Boxing Blitz:
High intensity session, instructing correct boxing technique & featuring boxing combinations, bodyweight resistance, interval running, skipping, & core/abdominal exercises. Distinguishing factor of our boxing sessions is that pad holders remain active with lower body plyometric & cardio exercises between combinations!
Bootcamp:
High intensity session taken on the move, involving plyometric supersetsof bodyweight resistance exercises, between interval running drills. Being taken on the move allows each session to head to unique locations for a change of scenery & great variety of drills!
Circuit:
High intensity is ensured through high repetition of mostly compound resistance exercises, combined with frequent cardio intervals. Equipment used includes dumbbells, kettlebells, resistance bands, medicine balls, dead balls, heavy ropes, fitballs, bosus, speed ladders, exercise mats & the occasional truck tyre!
Switch Up:
A combination of each of the above session styles, generally on a rotational basis from session to session.
**All Healthy Switch sessions involve a balance of push & pull resistance exercises, across all planes of movement.
Contact us for more information on Healthy Switch Corporate Group Fitness Training
Corporate Health & Fitness Presentations:
Conducted on site, our corporate health & fitness presentations focus on inspiring immediate action, through covering not only the health & fitness facts but also how to implement vital changes into everyday lifestyles.Our presenters have personally experienced working full time in large multi-national corporations (for a minimum of two years at PwC & CSC respectively), prior to working full time in the fitness industry. This has provided an invaluable knowledge of corporate lifestyle pressures, as well as a strong passion to provide & promote appropriate health & fitness solutions.
There is an alarming lack of nutritional knowledge in Australian society & some extremely poor food choices are made daily within the corporate sector. Simple changes to daily eating habits can greatly enhance mood & mental capacity, whilst also reducing susceptibility to the inflammatory disease epidemic of the modern western diet.
Sadly, daily exercise is frequently sacrificed amidst the hustle &bustle of corporate life,prioritising sedentary forms of work/life balance, despite the fact that exercise lowers stress & anxiety, whilst enhancing mood, sleep, cognition & happiness. With everyone having 24 hours in each day, we show you how easy it is to 'make time' for the most crucial form of work/life balance, with simple, time efficient strategies.
Contact us for more information on Healthy Switch Corporate Health& Fitness Presentations