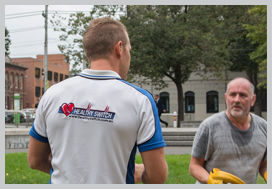 Healthy Switch Personal Training provides the most suitable format for ensuring specificity of exercises to the individual client's needs. Our PT sessions range from 1on1, to large private groups, with a diminishing pricing structure for additional participants.

Outdoor Personal Training:
Healthy Switch provides training equipment of equivalence to that found in a gym or studio, with the outdoor environment having the added benefit of no space restrictions for cardiovascular drills.
A distinguishing feature of Healthy Switch Personal Training, is that your trainer runs alongside you, providing motivation every step of the way.

Contact us for more information on Healthy Switch Outdoor Personal Training
Personal Programming:
If meeting on a regular basis with a Personal Trainer is not your most practical training format, you may wish to take advantage of the Healthy Switch Personal Programming service.
Clients meet with their Personal Trainer on a 4 or 8 week basis, where they are able to work through Goal Setting, a Nutritional Analysis, & a thorough Health & Fitness Assessment. Following the assessments, clients are guided through a Personalised Program (designed with or without use of equipment),to be followed over the period prior to re-assessment.
Contact us for more information on Healthy Switch Personal Programming